Tea Route Homestay Wayanad Details
Facilities we offer

Comfortable and cozy bedrooms

Bathrooms with all modern facilities

Cooking facilities

Spacious living area

Hot Water

TV with cable connection

Car parking with space for parking 8 cars

Facilitate Ayurvedic treatments. ( On Request )

Sight seeing arrangements-night safari in Tea Plantations.
Caretaker for travel and other assistance
There will be a person who is fully-dedicated to help you during your stay with us in Wayanad. He will guide you to all the tourist destinations. He will assist you in buying spices, bamboo crafts, tea and coffee furnitures etc.
If you require a Doctor or Medicine somebody to take care of your children, our person will be with you for any kind of support. He will be give you complete assistance during any hour of the day or night.


Kitchen and Cooking
If you wish to cook your own food, our kitchen will be open for you. There is gas connection and necessary utensils for cooking. And if your wish is to buy from outside, we will arrange for the same. You can heat the food and eat according to your convenience.There is a refrigerator and microwave oven also in the Kitchen.
Campfire and Spices
Get yourself soaked in music & dance along the Camp-fire!
You request for spices & we'll get you the most authentic ones directly from the farm!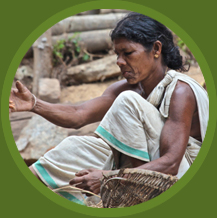 Village visit / Tribal village visit and tour arrangements
We will arrange all kind of tours as per your request...If you want we will do the pickup and drop from Mysore and Calicut airport. We will also arrange taxi/cab services.